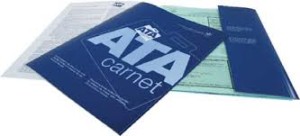 The ATA Carnet is a document that allows the temporary import export and import of merchandise into more than 80 countries while eliminating duties and value-added taxes (VAT) required in customs at the time of importation. The Initials "ATA" are an acronym of "Admission Temporary Admission".
ATA Carnets cover: commercial samples, professional equipment and goods for presentation or use at trade fairs, shows and exhibitions.
A carnet or ATA Carnet (pronounced kar-nay) is an international customs and temporary export-import document. It is used to clear customs in 85 countries without paying duties and import taxes on merchandized that will be re-exported within 12 months*. Carnets are also known as Merchandise Passports or Passports for Goods
The ATA carnet is made up of several collared sheets of paper including a green cover which serves as the registration of goods, yellow exportation and re-importation counterfoils for use in the Holder's country, and white importation and re-exportation counterfoils and corresponding vouchers for use in foreign countries.
Goods not re-exported from the foreign country by midnight of the expiry date or the date noted by the foreign customs authority as the "final date for re-exportation" (whichever is earlier) are subject to a claim from foreign customs.
What do carnet allow us to do?
Carnets facilitate temporary imports into foreign countries and re-importation into the U.S. By presenting an ATA carnet Document to foreign customs, you pass duty free and import tax free into a carnet country for up to one year. ATA Carnets also serve as the U.S. Certificate of Registration of goods upon re-importation
The Merchandized covered by carnet.
Almost all types of Goods are covered by the carnet as Equipments, goods merchandized. Commercial samples, Professional Equipments and Goods for Fairs and Exhibitions (Limited to 6 months).
Carnet Valid for the one year from its issue date except for exhibition and Fairs which is valid for 6 months from date of issue "Known exceptions to these validity periods are: Korea Malaysia, Mexico, Singapore.
It can not be extended more than its validity period however in same circumtance the customer are allow to extend the time. But this will expiry the old one and need to issue tha new one.
It can be issued and send to the applicant with in one day.