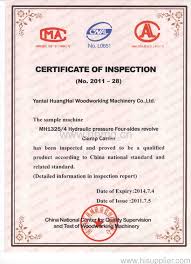 The Inspection Certificate for pre shipment inspection is a document issued by an authority indicating that goods have been inspected (typically according to a set of industry, customer, government, or carrier specifications) prior to shipment and the results of the inspection.
Inspection certificates are generally obtained from neutral testing organizations (e.g., a government entity or independent service company such as SGS o Bureau VERITAS). In some cases the Inspection Certificate can come from the manufacturer or shipper, but not from the forwarder or logistics firm.
When shipping high- value products or when you are dealing with a very conscientious customer, an inspection certificate might be requested. An inspection certificate provides proof that what you are shipping is, in fact what the customer ordered, and is also of good quality. If a customer requests this document, agree to it but see that they cover the administrative and inspection fee. Also, ask them to recommend an independent inspection agency to perform the review at your end.